> The Watersons > Records > Lal & Mike Waterson: Bright Phoebus
Lal & Mike Waterson: Bright Phoebus
Bright Phoebus
Songs by Lal & Mike Waterson

Trailer Records LES 2076 (LP, UK, September 1972, reissued ca. 1985)
Trailer/Leader LESCD 2076 (CD-R, UK, October 2000)

Domino REWIGLP102 / REWIGLP102X / REWIGCD102X (LP / 2 LP / 2 CD, UK, 4 August 2017)
Recorded and produced by Bill Leader, Leader Sound Studios;
Production master by Nic Kinsey, Livingston Studios;
2017 reissue project co-ordination for Domino by Bart McDonagh and David Suff;
Re-mastering from the original master tapes by Denis Blackham at Skye Mastering;
Liner notes by Pete Paphides;
Design by Matthew Cooper and Paul J. Street
See also Shining Bright: Songs of Lal & Mike Waterson.
Musicians
Mike Waterson: vocals [1-2, 5, 7, 10, 12], acoustic guitar [12];
Lal Waterson: vocals [1, 3-4, 6-10, 12];
Norma Waterson: vocals [1, 7, 10-12];
Tim Hart: vocals [1, 7, 10, 12], tambourine [1];
Maddy Prior: vocals [1, 7, 10, 12];
Bob Davenport: vocals [6];
Gordon Graham, Bernie Vickers: vocals [7];
Martin Carthy: acoustic guitar [2-12], vocals [7, 10, 12];
Richard Thompson: lead guitar [5, 7, 10, 12], rhythm guitar [1], acoustic guitar [2-4, 6, 8-9];
Ashley Hutchings: bass guitar [1, 5, 7, 9-10, 12];
Dave Mattacks: drums [1, 5, 7-10, 12];
Sammy Rimmington: clarinet [1];
Dennis Field: cornet [1];
Keith Nicholls: trombone [1];
Richard Gold: rubber band [1];
Bill Leader: jew's harps [1];
Clare Deniz: cello [3, 8];
Sue Harris: oboe [3]
Tracks
LP Side 1 / CD 1
LP Side 2 / CD 1
2017 LP Side 3 / CD 2: 1971 Demos
2017 LP Side 4 / CD 2: 1971 Demos
Video
Comments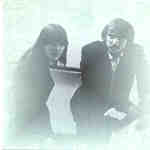 The Magical Man appeared on the seminal 4LP collection Electric Muse too. These are the sleeve notes for this track:
When Norma Waterson left to work in radio in foreign parts, after travelling for a living had nearly broken them, never mind their folk group, the Watersons took up regular jobs. But both Mike and Lal found themselves writing contemporary songs, which were recorded by Bill Leader for a remarkable album, Bright Phoebus. On this track with them are Norma, Tim Hart and Maddy Prior, Martin Carthy, Richard Thompson, Ashley Hutchings and Dave Mattacks. Having made their name as an entirely unaccompanied group, the Watersons had then gathered some of the finest musicians around them to produce the definitive contemporary folk rock album.
A note from Martin Jonas:
In 1972, Mike and Lal joined forces to record an album for the Trailer label, Bright Phoebus, which is most unlike anything else they ever did, as it features self-penned songs (of which there are none on any of their other albums) as well as an all-star instrumental backing band, including Richard Thompson and Ashley Hutchings.
Acknowledgements
Thanks to the folks at Musikfolk for the scan when I didn't yet have the LP. Thanks also to Wolfgang Hell and Susanne Kalweit for some corrections to the lyrics.
See also Jon Wilks' Folk from the Attic blog Marry Waterson on Bright Phoebus: an album of myth and magic for all the family.