> Dave Swarbrick > Biography
Dave Swarbrick Biography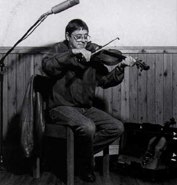 Dave Swarbrick was born in London on 5 April 1941 and moved to Yorkshire when only three months old. At the age of six he learnt the rudiments of the fiddle from the local fiddler, Mr. Bootham. When he was eight years old the family moved to Birmingham. Dave left school there and at the age of fifteen became apprenticed to I.C.I. as a letterpress printer.
During his indentured years Dave toured and recorded extensively. Amongst the huge back catalogue from that time are three Radio Ballads with Ewan MacColl, Peggy Seeger and Charles Parker. Dave's lifelong passion for folk music was born in those busy years.
His printing apprenticeship was mainly spent "on the road" or in the Manager's office. Amongst the many performers Dave met, worked and recorded with during those years were Beryl and Roger Marriott, A. L. Lloyd, Alf Edwards and, of course, Ian Campbell. Dave joined the Ian Campbell Folk Group in the early 1960s and left printing shortly afterwards.
In 1966 he teamed up with Martin Carthy and this remarkable pairing played an important part in the tremendous shake up given to British folk music in the middle to late 1960s. When they parted in 1969, Dave joined Fairport Convention and his contribution to folk and folk/rock music is legendary and well documented.
In 1984 Dave left Fairport and, along with Kevin Dempsey, Chris Leslie and Martin Jenkins, formed Whippersnapper, a group renowned for its drive and acoustic prowess.
In 1989 Dave decided to leave to concentrate on solo work and revive his partnership with Martin Carthy. In the early 1990s Dave and Martin were members of the folk "supergroup" Band of Hope along with such luminaries as Roy Bailey, Steáfán Hannigan, John Kirkpatrick and Chris Parkinson. The band toured twice and produced one CD, Rhythm and Reds.
In 1993 Dave moved to Australia and for the next three years he lived in the Blue Mountains. It was there that he met and began working with Alistair Hulett. Their partnership has produced two highly acclaimed CDs, Saturday Johnny & Jimmy the Rat and The Cold Grey Light of Dawn. They have two UK tours under their belts with a third planned, plus another CD.
Dave returned to England in 1996. He and Kevin Dempsey started making music together shortly afterwards. They both live in Coventry, take delight in their association and shares in the letterpress industry continue to soar!
He died on 3 June 2016.
Links
Tis obituary from the Daily Telegraph on 20 April 1999 was 17 years early.