Dave Swarbrick is NOT DEAD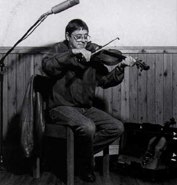 The Daily Telegraph came mistakenly to believe that Dave Swarbrick had died and published this obituary on 20 April 1999. The paper apologised when it found out it was mistaken.
---
Violinist with the British group Fairport Convention who in the late 1960s opened the door for the fusion of folk and rock
DAVE SWARBRICK, the violinist and singer who has died aged 58, was one of the most influential folk musicians of the 1970s and 1980s, especially with the group Fairport Convention. A small, dynamic, charismatic figure, "Swarb" - cigarette perched precariously on his bottom lip, unruly hair flapping over his face, pint of beer ever at hand - could electrify an audience with a single frenzied sweep of his bow. He never failed to produce a dramatic effect, whether on fiddle or mandolin, whether playing in tiny folk clubs or at huge open air festivals.
David Swarbrick was born at New Malden, Surrey, on 5 April 1941. He was first drawn to folk music after taking up the guitar during the skiffle boom of the late 1950s. When he was 16, the pianist Beryl Marriott heard him at a skiffle group competition and invited him to join a ceilidh dance band. Beryl Marriott also persuaded him to have another crack at the fiddle which he had played as a child but which he had long since consigned to the attic.
He grew up fast on stage, overcoming his natural diffidence to take an assured position at the centre of the band. In the 1960s, Swarbrick was invited to play in some of the sessions of Ewan MacColl's and Charles Parker's Radio Ballads. Through these he was introduced to Ian Campbell, a Scotsman who was turning his sights on the British folk tradition.
Swarbrick joined the Ian Campbell Folk Group in time to play on their first record, EP Ceilidh at The Crown (1962); he went on to help establish them as stars of the emerging folk clubs. The group had a minor hit with the first British cover of a Dylan song, The Times They Are A Changing.
Swarbrick's reputation rose rapidly, and in 1965 he was invited to play on Martin Carthy's first album. The next year he suddenly decided to emigrate to Denmark and marry his Danish girlfriend. With little money and no return ticket, he was detained at the Hook of Holland by customs, and promptly sent home again. He ended up staying in London with Martin Carthy, a twist of fate that led to an important partnership.
The intuitive interplay between Carthy's guitar and Swarbrick's fiddle was something entirely new, while their innovative arrangements of traditional standards proved inspirational. Over the next three years, they were a huge draw. Their albums, Byker Hill (1967), But Two Came By (1968) and Prince Heathen (1969) broke the mould of traditional song arrangement and opened the door for the fusion of folk and rock upon which Swarbrick would stamp himself with such force.
When he was asked to play on a session for Fairport Convention. in 1969, he had never even heard of the band. At that time the idea of an electrified violin was so novel that, in order to create the desired effect, a telephone handset was taped to Swarbrick's fiddle and connected to an amplifier.
Swarbrick was initially booked for one number only, but he ended up playing on four tracks on Fairport's Unhalfbricking album (1969). This led to an invitation to join the band full time. Disillusioned with the parochialism of folk music, Swarbrick needed no second bidding. His first album as a fully fledged member of Fairport Convention was Liege and Lief (1969), which broke new ground in marrying traditional songs with rock.
Two members of the band, Sandy Denny and Ashley Hutchings, walked out after disputes about the direction of their music. This left Swarbrick and the guitarist Richard Thompson to take their place at the core of the band. Over the next 15 years Fairport Convention undertook world tours and made more than a dozen albums, albeit of varying quality.
After Richard Thompson's departure in 1970, Swarbrick developed into a surprisingly sensitive songwriter, and also took on the role of lead singer. In 1971 he was the prime creative drive behind Fairport Convention's most ambitious project, Babbacombe Lee, an album based on the story of John Lee, a convicted murderer who was reprieved after three attempts to hang him at Exeter in 1885 had failed.
Swarbrick remained a constant presence throughout the numerous internal disputes and personnel problems which disrupted Fairport. But continual playing of the electric violin left him virtually deaf in one ear, and in 1984 he decided to retire.
Even during the Fairport years he had proved that he could play unamplified fiddle better than most, releasing three magnificent solo albums, Swarbrick (1976), Swarbrick 2 (1977) and Lift the Lid and Listen (1978). He now reverted to the acoustic violin as he returned to folk clubs with fellow Fairport member Simon Nicol.
In 1986 he formed a new band, Whippersnapper. He also made occasional returns to the Fairport fold, playing at their annual Cropredy Reunion Festival in Oxfordshire.
In 1988 Swarbrick linked up again with Martin Carthy. They made some successful tours, and produced a couple of fine albums, Life and Limb (1990) and Skin and Bone (1992).
Swarbrick also made cameo appearances in several films, including Far From the Madding Crowd, while his musical adaptation of Babbacombe Lee became the subject of a television documentary.
But he was always happiest playing in front of an audience. He spent some of his last years in Australia, working with the guitarist and singer Alistair Hulett. Together they recorded the impressive The Cold Grey Light of Dawn (1998), which proved to be his final album.
Swarbrick would have been happy to die in harness. "No one is going to take me off the road," he once said. "That's what I like doing - going out and playing. I hope to do it until the day I die."
---
Acknowledgements
Garry Gillard thanks Steve Willis.