> Steeleye Span > Records > Commoners Crown
Steeleye Span: Commoners Crown
Commoners Crown
Steeleye Span

Chrysalis CHR 1071 (LP, UK, January 1975)
Chrysalis/Festival L 35406 (LP, Australia)
Chrysalis/Phonogram 6307 543 (LP, Germany)
Chrysalis/EMI 432063-2 (CD, UK)

BGO Records BGOCD 315 (CD, UK, September 1996)
Produced by Steeleye Span and Robin Black;
Engineered by Robin Black and Roger Quested;
Mixed by Robin Black;
Assistant Engineer Dave Harris;
Recorded at Morgan Studios, London
Musicians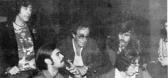 Maddy Prior: vocals;
Tim Hart: vocals, guitar, dulcimer;
Robert Johnson: guitar, vocals;
Rick Kemp: bass, vocals;
Peter Knight: violin;
Nigel Pegrum: drums, flute
with
Peter Sellers: acoustic ukulele [9]
Tracks
Side 1
Side 2
All tracks trad. arr. Prior / Hart / Knight / Johnson / Kemp / Pegrum
Comment
Recorded at Morgan Studios in September and October '74. Produced by Steeleye Span and Robin Black. Maddy thought of the title, and the award-winning sleeve - a gold crown made out of hundreds of little figures - was by Shirtsleeve studios. The superstar guest this time was Peter Sellers, who played "acoustic ukulele" on New York Girls. Bob had suggested him, after seeing him play ukulele in a film. Apart from playing well, Seller enlivened the session with a stream of ad-libbed Goon humour, some of which was kept in the final mix. The band still have a version that is entirely swamped with manic Goon Show interruptions. The album also included two more strong songs with melody and arrangement by Bob, Little Sir Hugh and Long Lankin, as well as Rick's arrangement of Demon Lover.
Tim Hart, Robin Denselow: The Complete Steeleye Span, 1978
Sleeve Notes
On the 7th of March, 1978, some 2,000 people were packed into a small south coast theatre, the Winter Gardens at Bournemouth, to watch what they assumed would be the death-throes of a favourite band. After all, Steeleye Span were to split up the very next week, after 10 studio albums and a 100-month long career. And which bands give their best shows just as they are about to disappear?
Four years earlier, Steeleye Span finally became a sextet and released Now We Are Six, the first of three classic and critically acclaimed band albums.
1975 saw the release of Commoners Crown, followed by the commercially successful All Around My Hat in 1976. For Commoners Crown, Maddy Prior led Steeleye Span through a fine selection of band composed and traditional English, Scottish and Irish folk gems making each sound their very own.
A surprise guest on New York Girls was Peter Sellers strumming away on the ukulele…adding a novel touch to a line up which included Maddy Prior (vocals), Tim Hart (vocals, guitar, dulcimer), Robert Johnson (violin), Rick Kemp (bass, vocals) and Nigel Pegrum (drums, flute). [Note: The text doesn't mention Peter Knight! -rz]
The band broke up in 1978 with lead vocalist Maddy Prior setting sights on a solo career.
[from the CD Chrysalis/EMI 432063-2]
Review
Der Titel einer Langspielplatte erfüllt im Bestfall die Funktion eines Mottos, das der Musik vorangestellt wird. Bei dieser neuen Steeleye Span-LP würde das heißen: Commoners Crown - wörtlich übersetzt: die Krone des gemeinen Mannes - handelt vom Mann auf der Straße, dem wahren Helden der Volksliteratur, insbesondere des Volksliedes. Hiermit stecken wir auch schon mitten in der Problematik, die bei Steeleye Span schon auf der letzten (=erfolgreichsten) Platte aufgetaucht ist. Denn einerseits verstand es diese Folk-Rock-Band vorzüglich und höchst effizient, traditionelles Liedgut mit zeitgemäßen Mitteln wiederzubeleben, ja zu aktualisieren, doch andererseits wich sie dabei allzugern auf Lieder mit Realitätsausschnitten aus, mit denen wir heute kaum etwas anfangen können, oder die gar in einer verzückten Märchenwelt mit Figuren wie Elfen oder Zwergen angesiedelt sind. Zwar bin ich unbedingt der Auffassung, dass solche Lieder und Mythen eine Beschäftigung mit ihnen verdienen, bezweifle jedoch, dass eine tausendfach verbreitete LP, die keinerlei philologische, historische und politische Interpretationshilfen anbietet, hierzu geeignet ist.
Die Gefahr, die die unmittelbare und unvermittelte Konsumption solcher Lieder mit sich bringt, ist bekannt: Die Vergangenheit wird durch die rosarote Brille betrachtet, Tradition denaturiert zu einer Boutiquenausgabe, die Nostalige, die schöne, heile und wohlvermerkt vergangene Welt avanciert unversehens zum Narkotikum: hier darf entweder delektiert werden, was die eigene Gegenwart verweigert, oder in eine weltfremde Idylle geflohen werden, die eine Gegenwelt, und zwar keine realistisch-utopische, sondern eine völlig artifizielle, romantisch-idealistische, propagiert.
War die Vergangenheit so, wie sie in diesen Liedern vermittelt wird, oder wird sie in ihnen vergoldet? Diese Frage muss auch bei Commoners Crown zwiespältig, mit teils teils beantwortet werden, was man Steeleye Span auch diesmal zum Vorwurf machen kann.
Eine weitere Parallele zur Liedauswahl der letzten LP ergibt sich durch zwei Kompositionen, die eigentlich nicht so recht ins Repertoire der Gruppe passen und wie Füllsel wirken. Die eine heiß Bach Goes to Limerick (und klingt auch so), die andere nimmt sich (parodistisch?) eines amerikanischen Shanties (New York Girls) an, das vor mehr als zwanzig Jahren Burl Ives mit seinen Kadetten schon pathetischer verschlagert hat.
Die Arrangements freilich sind insbesondere in den vielschichtig aufgebauten Vokalsätzen hervorragend gelungen und geben der Platte einen Flair, der einen Verleich mit den Byrds (in ihren besten Jahren) durchaus standhält. Allein Nigel Pegrum trommelt mir manchmal zu einfältig und bieder.
Andreas Roßmann, Sounds, 1975