> Folk Music > Records > Mac Ìle: The Music of Fraser Shaw
Mac Ìle: The Music of Fraser Shaw
Mac Ìle: The Music of Fraser Shaw
The Islay Sessioners

Fraser Shaw Trust FSTCD001 (CD, UK, 26 June 2017)
An album to celebrate the music of Fraser Shaw (c.1981-2015) who died too young on MS.
Tracks 1-3, 7-8, 12 recorded by Stuart Hamilton at Castlesound Studios with additional engineering by Duncan Lyall;
Tracks 4-6, 9-12 recorded by Duncan Lyall at Carrier Waves, Red Deer Studios and The Toolbooth;
Produced and mixed by Duncan Lyall;
Mastered by Iain Hutchison at GloWorm Studios;
Artwork and design by Somhairle MacDonald<(p>
Musicians
The Islay Sessioners:
Adam Sutherland, Eilidh Shaw, Gráinne Brady: fiddles;
Lori Watson: fiddle, vocals;
Innes Watson: fiddle, guitar, vocals;
Angus MacKenzie: Highland pipes, Border pipes, whistles;
Calum MacCrimmon: Highland pipes, whistles, vocals;
Kevin O'Neill: flute;
John Somerville: piano accordion;
Laura-Beth Salter: mandolin, vocals;
Ross Martin: guitar;
Jenn Butterworth: guitar, vocals;
Tina Jordan Rees: piano;
Duncan Lyall: double bass, electric bass, vocals
with guests:
Kathleen Graham: vocals;
Mhairi Hall: piano;
Ross Couper: fiddle
Tracks
Back to Islay: The Machrie / Force 10

(4.51)

Trip to Glasgow: Strings & Blowy Things / Turas Fhriseil a Ghlaschu

(4.41)

£50 Cashback: A Bottle of Vodka, 20 Marlboro Reds and £50 Cashback, Please!

(2.58)

G&T Set: Abandon Ship / Octomore

(4.03)

Pipe Set: Graham Allison's Welcome to Traditional Music / Turboshandy / Angus MacKenzie's

(3.50)

Clachan Uaine

(4.51)

Islay Skies: Murmuration / Aurora

(6.58)

Slumberland's: Slumberland's / K's

(4.40)

Cairn's Set: Memories of Fraser Shaw / Get Her Goin' / The Coast of Austria

(5.08)

Air Chall

(3.26)

In Frienship's Name (5.46)
The C-Side (5.52)
All tracks written by Fraser Shaw except
Track 2b Fraser Shaw, Laura-Beth Salter, Calum MacCrimmon;
Track 5b Ross Martin;
Track 6 Calum MacDonald;
Track 7b Lori Watson;
Track 9a Adam Sutherland;
Track 9c Seán Ryan;
Track 11 trad.
> Folk Music > Records > Fraser Shaw
Other records with Fraser Shaw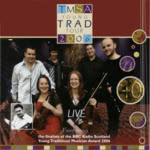 Various Artists, TMSA Young Trad Tour 2006, CD, TMSA TMSA06, 2006