> Folk Music > Records > Graham Metcalfe: Songs from Yorkshire and Other Civilisations
Graham Metcalfe: Songs from Yorkshire and Other Civilisations
Songs from Yorkshire and Other Civilisations
Graham Metcalfe

WildGoose Studios WGS279CD (CD, UK, January 23, 2006)
> Folk Music > Records > Folly Bridge: All in the Same Tune / Unabridged
Folly Bridge: All in the Same Tune / Unabridged
▼ show all details
▲ hide all details
This CD-R is a remastered reissue of Folly Bridge's two original cassettes, All in the Same Tune (WildGoose WGS252MC, 1991) and Unabridged (1992). Since it wasn't available anymore for a long time, Claire Lloyd uploaded all songs to a Youtube playlist in Summer 2014. Thank you very much, Claire! In 2015, WildGoose re-released this as a digital download album.
Produced and recorded by Doug Bailey at WildGoose Studios, May Cottage, Wherwell, Hampshire.
Musicians
Ian Giles, Graham Metcalfe, Claire Giles (now Claire Lloyd), vocals
Tracks
| Unabridged | All in the Same Tune |
| --- | --- |
| | |
All tracks trad. except
Track 4 Jake Thackray;
Track 6 Tom Daniel;
Track 12 Roger Watson;
Track 13 Gordon Bok;
Track 16 George J. Whyte-Melville;
Track 26 words John Hartley, tune Dave Hillery
Links
See also the Mudcat Café thread Review: Folly Bridge - Remastered Tapes!
> Folk Music > Records > Folly Bridge
Other records with Folly Bridge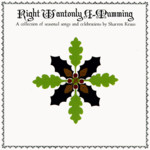 Sharron Kraus, Right Wantonly A-Mumming, CD, Bo'Weavil 25CD, 2007