> Peter Bellamy > Records > Oak, Ash & Thorn
Oak, Ash & Thorn
Oak, Ash & Thorn
A collection of songs from the "Puck" stories by Rudyard Kipling
Peter Bellamy

Argo Records ZFB 11 (LP, UK, October 1970)
Talking Elephant TECD174 (CD, UK, 23 May 2011)
▼ show all details
▲ hide all details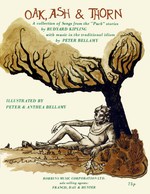 Peter Bellamy sings poems from Rudyard Kipling's books Puck of Pook's Hill (1906) and Rewards and Fairies (1910).
Produced by Frederick Woods;
Recorded by Adrian Martins at Decca Studios, London, in 1970;
Sleeve notes and drawing by Peter Bellamy;
Sleeve design by Anthea Bellamy
A songbook accompanying this album was published in Autumn 1971 by Robbins Music Corporation. Like the album it was illustrated by Peter and Anthea Bellamy.
See also folkcatalogue's blog on Oak, Ash & Thorn.
Musicians
Peter Bellamy: vocals, guitar [4, 10], Anglo concertina [12];
Royston Wood, Heather Wood: chorus [1, 6], harmony vocals [9];
Robin Dransfield: chorus [1];
Barry Dransfield: fiddle [2, 7]
Tracks
Side 1
Side 2
All tracks lyrics Rudyard Kipling, music Peter Bellamy except
Tracks 2, 7 lyrics Rudyard Kipling, music trad.
> Peter Bellamy > Records > Oak Ash Thorn
Oak Ash Thorn
Oak Ash Thorn
A collection of songs from the "Puck" stories by Rudyard Kipling
Various Artists

Folk Police Recordings FPR003 (CD, UK, 19 January 2011)