> The Albion Band > Records > The Albion River Hymn
The Albion River Hymn
A Celebration of the River Thames
This Albion Band show was compiled and written 1978 by Mary Miller and Ashley Hutchings. It was recorded in 1981 by Radio Trent, produced by John Shaw. Some of the tracks have been released on the two cassettes Songs From the Shows by the Albion Band in 1990/91, and re-released on CD in 1992 and 1997. A short track, Sweet Themmes Run Softly, is credited to Spenser / Prior.
The Songs From the Shows sleeve notes show a reproduction of the announcement: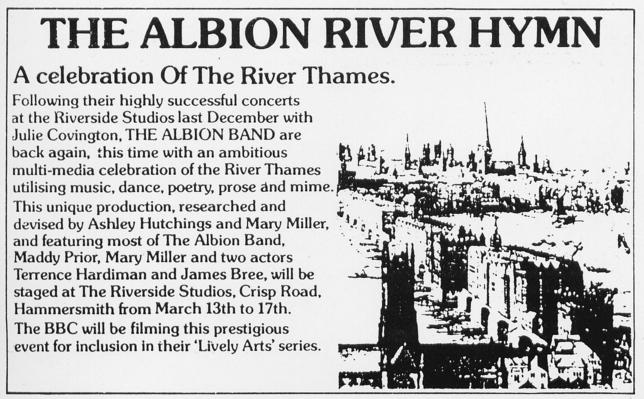 Note that the Radio Trent recording released on Songs From the Shows has different personnel as the original show, e.g. June Tabor singing instead of Maddy Prior. I don't know if a recording of the Albion River Hymn show with Maddy Prior exists. It is listed in Eduardo Moto's discography on his Maddy Prior website but I have found no other evidence for it.
The following video is an excerpt of a 1979 BBC TV documentary on Ashley Hutchings and the Albion Band. It features Maddy Prior guesting with the line-up of Philip Pickett, Simon Nicol, Michael Gregory and Ashley Hutchings, from the stage production of the Albion River Hymn, probably at Riverside Studios, Hammersmith in March 1979; voiceover by Ashley Hutchings :