> Folk Music > Records > Frank Purslow and John Pearse: Rap-a-Tap-Tap
Rap-a-Tap-Tap
Rap-a-Tap-Tap
English Folk Songs Miss Pringle Never Taught Us
Frank Purslow and John Pearse

Folklore Records F-LEUT 1 (LP, UK, 1960)

Songs Miss Pringle Never Taught Us
Frank Purslow and John Pearse

Folk Art FLP 5007 (LP, USA, 1965)
▼ show all details
▲ hide all details
Produced by Doug Dobell;
Recorded on 29 November and 11 December 1959 and 28 October 1960;
Recorded and edited by Peter Kennedy;
Notes and library research by Frank Purslow;
Arrangements by John Pearse;
Cover by Millicent McMillan
Musicians
Frank Purslow, John Pearse: vocals, guitar, banjo, mandolin, recorder, big bass drum
Tracks
Side 1
Rap-a-Tap-Tap (1.28)
The Bold Astrologer (Roud 1598) (1.58)
The Tailor's Breeches (Roud 1610; TYG 49) (1.55)
Monday Morning (Roud 579) (1.54)
The Bunch of Nuts (Roud 1261) (2.21)
Blow the Candle Out (Roud 368; Laws P17) (2.20)
The Butcher and the Parson (Roud 17188) (3.06)
The Crabfish (Roud 149) (2.42)
The Bosun and the Tailor (Roud 570; Laws Q8; G/D 7:1432; Henry H604) (3.10)
Side 2
The Friar in the Well (Roud 116; Child 276) (3.33)
The Squire and the Chambermaid (Roud 1257) (2.37)
Rag Fair (Roud 17180) (1.23)
Young Rambleaway (Roud 171; G/D 7:1485) (2.46)
The Sailor's Frolic (Roud 1638) (2.37)
The Sailor Cut Down (Roud 2; Laws Q26; G/D 7:1404; Henry H680) (3.09)
Whistle, Daughter, Whistle (Roud 1570; G/D 7:1334) (2.19)
Chilbridge Fair (Roud 173) (1.17)
The Shoemaker's Kiss (Roud 3807; G/D 1:50) (3.03)
Notes
The songs on this record were noted down from English country singers during the first ten years of this century by English folk music collectors: Cecil Sharp, George Gardiner and the Hammond Brothers.
This does not mean to say that they are necessarily curiosities or antiques; in fact many of them are still to be heard from the lips of country singers. They possess a virility and humour which is characteristic of the English tradition; a quality which should appeal in particular to those with a different picture of English folk song; perhaps even painful memories of Miss Pringle, armed with knuckle-rapping ruler, determined to make us appreciate Strawberry Fair (suitably edited, of course) or bust.
Among the many thousand of English folk songs noted at the turn of the century there were so many good tunes that we can hardly blame the collectors if they softened or re-wrote the texts in order to make them suitable for the late Victorian public. The more earthy songs have remained hidden in private collections. The availability of the manuscripts for research purposes has enabled James Reeves to publish two books giving texts of some of these unpublished songs (The Idiom of the People and The Everlasting Circle, Heinemann 1958 and 1960). Further material from the Journals of the Society have been edited by Dr Vaughan Williams and A.L. Lloyd and published in the Penguin Book of English Folk Song.
This recording was originally issued as a Limited Edition but there has been such a tremendous demand for it since it went out of print, that I decided to issue a further edition, and this is it. This edition contains the same songs as were on the original, and seventeen of them are same versions as those previously issued. The Squire and the Chambermaid, The Sailor Cut Down and The Shoemaker's Kiss are, however, brand new, and in fact improved versions, and these were recorded on 28 October 1960, together with five other new numbers, which I hope to issue as an EP at a later date.
> Folk Music > Records > Frank Purslow and John Pearse: Bottoms Up!
Bottoms Up!
Bottoms Up!
English Soak Songs for Fools
Frank Purslow and John Pearse

Folklore Records F-EPEU-500 (EP, UK, 1961)
> Folk Music > Records > Frank Purslow
Other records with Frank Purslow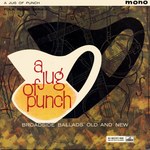 Various Artists, A Jug of Punch: Broadside Ballads Old and New, LP, HMV CLP 1327, 1960