> Folk Music > Records > BACCApella: The Haworh Set
The Haworth Set
The Haworth Set
Keighley Sings Carols
BACCApella

private release (CD, UK, 1999)
This CD is a recording of the singers of the BACCApipes Folk Club singing carols.
Produced and recorded by Mike Hockenhull at Worth Brewery;
Graphic design by Jim Ellison
Singers
Mollie Binns, Maggie Boyle, Jim Ellison, Carolyn Gill, Joel Griffiths, Lynda Hardcastle, Fay Hield, Mike Hockenhull, Helen Hockenhull, Mal Jardine, Jim Lawton, Anne McGrath, Tim Moon, John Pedrick, Sian Pedrick, Alan Rose, Jenny Scott, David Williams
Tracks
Joy to the World (2.17)
Shepherds, Arise! (Roud 1207) (3.12)
Angels from the Realms of Glory (Roud 8358) (2.34)
Beautiful Star of Bethlehem (Roud 15755) (3.02)
While Shepherds Watched (Liverpool) (Roud 936) (3.14)
Gabriel's Message (2.27)
Ding Dong! Merrily on High (2.20)
The Sans Day Carol (Roud 514) (2.56)
The First Nowell (Roud 682) (3.05)
The Holly and the Ivy (Roud 514) (3.05)
The Man in the Moon Drinks Claret (Roud 20006) (1.19)
Lo! The Eastern Sages Rise (Roud 8360) (2.17)
Harky Harky (Roud 8337) (2.10)
Unison in Harmony (2.22)
Hail! Smiling Morn (Roud 1346) (2.51)
All tracks trad. except
Track 4 words J. Montgomery (first printed 1816), French tune;
Track 7 words G.R. Woodward, 16th cent. French tune harmonized by Charles Wood and BACCApella;
Track 9 tune from The Watersons' Young Banker;
Track 11 trad. arr. Pyewackett and BACCApella;
Track 12 West Cornwall tune, setting by Padstow Carolers;
Track 14 West Cornwall tune, adopted by Padstow, 1912;
Track 15 Jim Boyes
Acknowledgements
Thank you very much to Maggie Boyle for a copy of this wonderful CD!
> Folk Music > Records > BACCApella
Other records with BACCApella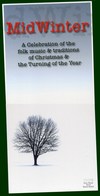 Various Artists, Midwinter, 4 CD, Free Reed FRQCD 30, 2006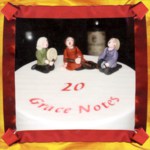 Grace Notes, 20, CD, Fellside FECD249, 2012